Please join the International Humanistic Management Association for a conversation with Raj Sisodia (Babson) about the healing power and potential of organizations.
Date: Friday, March 29 
Time: 12:00 pm – 1:00pm (EDT)
Location: Web conferencing, details will be sent before the event once your RSVP is received

This Necessary Conversation is sponsored by the Donahue Center for Business Ethics & Social Responsibility in the Manning School of Business at UMass-Lowell.
Topic for this Conversation:  The Healing Organization
We live in a world of extraordinary pain and suffering. Public confidence in major corporations is at an all-time low. Why? Too many businesses exploit their people and harm their communities for short-term profit. If we are not consciously part of the healing, we are probably part of the hurting. But it doesn't have to be this way. Business can become the primary agent for healing society. This is not about healing businesses; it is about business as healing. Business can take wounded people, broken communities and damaged ecosystems and make them whole again – and businesses that operate in this way will be more successful and profitable over time. Raj will share stories of such businesses and extract lessons from them.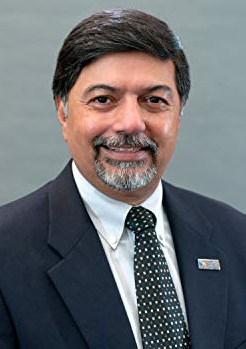 About Raj Sisodia:
Raj Sisodia is FW Olin Distinguished Professor of Global Business and Whole Foods Market Research Scholar in Conscious Capitalism at Babson College, and Co-Founder and Co-Chairman of Conscious Capitalism Inc. He has a Ph. D. in Marketing from Columbia University. Raj is co-author of the New York Times and Wall Street Journal bestseller Conscious Capitalism: Liberating the Heroic Spirit of Business (2013) and Wall Street Journal bestseller Everybody Matters (2015). He was named one of "Ten Outstanding Trailblazers of 2010" by Good Business International, and one of the "Top 100 Thought Leaders in Trustworthy Business Behavior" by Trust Across America for 2010 and 2011. Raj received an honorary doctorate from Johnson & Wales University in 2016.
Raj has published ten books and over 100 academic articles. His book Firms of Endearment: How World Class Companies Profit from Passion and Purpose was named a top business book of 2007 by Amazon.com. He has consulted with numerous companies, including AT&T, Nokia, LG, DPDHL, POSCO, Kraft Foods, Whole Foods Market, Tata, Siemens, Sprint, Volvo, IBM, Walmart, Rabobank, McDonalds and Southern California Edison. He is on the Board of Directors at The Container Store and a trustee of Conscious Capitalism Inc.
https://www.eventbrite.com/e/necessary-conversation-raj-sisodia-on-the-healing-organization-tickets-54997969407